About Me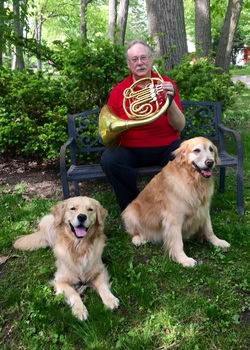 I began my career as a trumpet player, but was "persuaded" to switch to the horn in 1968 while I was member of the 437th Army Band at Fort Riley, Kansas.

I have a Bachelor of Science degree in music education and a Master of Music degree in horn performance and pedagogy from Northern Illinois University. My primary teachers were William Klinglehoeffer and Gail Williams. While a graduate student at NIU, I played third horn with the Rockford Symphony, Principal Horn with the Rockford Chamber Orchestra, and two seasons as a regular member of the Chicago Civic Orchestra.

Upon graduation from NIU, I played third horn for four and a half months with the American Wind Symphony in Pittsburgh, PA. During this time, I met Lesley, my wife of 35 years. At the end of the season I moved to Wisconsin to be with her and began my employment with the Frank Holton Company as Tester, and later Foreman of Final Assembly.

While at Holton, I had the privilege of working with Barry Tuckwell, Phil Farkas, Louis Stout, Ethel Merker, and other well known horn players. It was during these years that I learned the effect that tapers, materials, and care in construction have on the performance of a horn. I left Holton after ten years to pursue a career in instrument repair in Milwaukee where I was able to do further research and experimentation in horn repair and customization.

When I left Holton, I was also free to supplement my income as a freelance horn player. I was a substitute with the Milwaukee Symphony for seventeen years, many as first call. Additionally, I was associate principal horn with the Milwaukee Ballet orchestra and was able to play the end of three seasons with Chicago Lyric Opera as they prepared and performed Wagner's Ring Cycle. I played sixth horn and second Wagner tuba and was an original "Zubin's Tuben", the name we gave ourselves as members of Zubin Mehta's Wagner tuba section.

I have played principal horn with most of the orchestras in Southeast Wisconsin, as well as guest principal with the Kenosha Symphony and the Fox Valley Symphony. Formerly principal horn with the Wisconsin Philharmonic and the Milwaukee Festival City Symphony, I now limit my playing to assorted freelancing in order to focus on building and customizing horns. Some recent opportunities include a four week run playing with the back up orchestra for Cheap Trick, Frank Sinatra Junior, Johnny Mathis, and others.

---