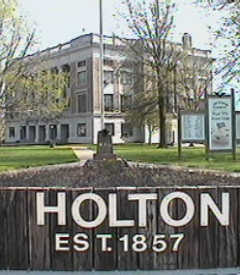 Holton Memoirs: Part I

It has been suggested to me that I write a book recounting my memoirs and experiences while the Tester with the Frank Holton Company, a manufacturer of musical instruments, primarily french horns. I thought that this particular venue would be a good testing ground to see if there were indeed some interest , or if I actually had the ability to make a potentially boring, tiresome subject interesting enough for anyone else want to read it. I could start the narration with something clever like, " Long ago in a factory far, far away ...", but that's probably a little cheesy.

I completed graduate school in 1978, and entered the employ of Robert Boudreau's American Wind Symphony Orchestra in Pittsburgh, Pennsylavania. I received a stipend of $1000.00 for a four and a half month tour that started in Pittsburgh and ended in Selma, Louisiana. Having met a wonderful young flutist from Wisconsin, I had no intention of returning to Illinois. I took up residence in Kenosha, Wisconsin and was able to get employment with the G. Leblanc Corporation. Because I had a masters in french horn performance and had a pretty decent performance resume (I had also played two seasons with the Civic Orchestra of Chicago) I thought that I would have a good chance to get a job at the Holton Company, a division of Leblanc and maker of the well known Farkas line of french horns.

I ended up working in the buffing room at another Leblanc division, the Martin Band Instrument Company. So, for forty hours a week I had the privilege of standing in front of a buffing wheel and buffing aluminum Vachiano trumpet mutes. As I became more proficient I was given the responsibility of buffing Vachiano trombone mutes. All of those student loans that I had taken out were becoming due, so that generous wage of $4.00 per hour was really coming in handy, and after my thirty day grace period was over my pay jumped to $4.10 per hour.

After a few months I began buffing trombone bells and eventually worked my way into bell bending, assembly, testing and annealing trumpet bells. I had actually worked my way into a good relationship with the plant manager and was being groomed to be a foreman.

I learned that the Holton Company had been on an extended strike. Many of the machines that had been used at the Holton plant in Elkhorn had been moved to the Martin plant in Kenosha, some of which I had the opportunity to learn how to operate. One machine in particular was the Boromatic, a machine that bored out the valve casings on a trumpet and did the initial boring prior to the honing of the valve casings and lapping of the pistons.

When the strike had been settled french horns spewed forth from the Holton plant at an accelerated rate in order to complete back orders that had accumulated. It was during this time that Holton's reputation was severely damaged. The International Horn Society had sent out a survey to horn players asking about the horns people played and, among other questions, what people did or did not like about their horns. Holton did poorly. Jon Crist, vice president of national sales, was a horn player who had connections with a famous horn repairman and maker of custom leadpipes. He showed the results of the survey to Vito Pascucci, the owner and chairman of the board of the G. Leblanc Corporation. Vito was once Glenn Miller's personal repairman and had started the Leblanc Corporation from a small shop in Kenosha to a major corporation. He really was most concerned about quality.

Jon suggested that since all the Holton instruments were warehoused in Kenosha at the Martin Company, and a horn player worked at Martin, that the horns be inspected a second time. I was told that Vito's brother-in-law, the quality assurance manager, was going to meet with me and go over a Farkas horn with me and ask me my impressions. I sat in a small office and was handed a new H 179 and told to look it over and see if I could find anything wrong with it. The first thing I noticed was that the valve caps were only on about a quarter turn and were sticking up it the air with most of the threads from the casing showing. I laughed a bit and asked why he was toying with me, that the cap fit was so poor that I could see from across the room that there was a problem. He looked very surprised and a little offended. Other observations were that the valves were noisy, that there was end play and side play and that a number of slides did not fit very well and were hard to adjust. I played the horn a bit but was distracted by the racket the valves were making. The next day I was given ten or twelve horns to reinspect and write comments. I pretty much got writer's cramp and all of the horns were returned to Holton for rework.


Part 2

Now that I was playing horns for a part of each day I felt I was moving up in the world. A problem arose, though. Since I was rejecting every horn that I played, production at Holton slowed down because they were working to improve the horns, and it took extra time to rework the horns that I had sent back. I worked myself out of a nice little position !

Gradually the horns did improve, and it was decided that it was no longer necessary to do the double inspection. So it was back to the daily gig of manufacture for me.

Not long afterwards I was told that the Holton tester position was opening up. The man who had been the long time tester was going to be involved in design/ engineering and research development full time. I went home that night and looked up Jon Crist's phone number and called him at home. Jon was the national vice president of sales, a horn player, and the man who had recommended to Vito Pascucci that I reinspect all the horns. Calling him at home in the evening was perhaps overdoing it a bit but I wanted to make darn certain that management knew of my interest. I tried to sound non chalant, but I'm pretty certain that I came off as a groveling, insecure boob. Perhaps offering to work for free or actually paying Leblanc for the privilege of testing horns at Holton was a bit over the top, but I was granted an interview with the Holton plant manager and the VP of brasswind manufacture. My background in manufacturing at Martin actually carried more weight than my degrees in horn, and I was offered the position. I met with the VP of brasswind to discuss salary and was offered $12,000.00 per year. I whined that I had a masters degree in horn so he upped the salary to $12,500.00. I was expecting a lot more, but as I said before, I would have paid him for the chance to sit in a testing room and play horns all day and rub elbows on occasion with the likes of Phil Farkas, Louis Stout, Ethel Merker and Barry Tuckwell.

One of the first things on my agenda was to load up a trailer and move my pitiful belongings to my new home, much like Jed and all his kin, to a small rented house in Lake Ivanhoe, just on the outskirts of Lake Geneva, Wisconsin. I couldn't understand why, for the first few days, groups of young African American children would walk up and down the street in front of my house and point at me and wave, and then come back later with another group of African American children and again point at me and wave. My land lady told me that I was the only white person in the community, that Lake Ivanhoe had years before been settled by a group of African Americans from Chicago looking to raise their families in rural Wisconsin. I was a bit of a novelty apparently to the children, and they spent a lot of time looking at me. They were really sweet kids and I enjoyed waving back at them and talking with them for the year that I lived there.

My first morning as the new Holton tester was greeted by a heavy snow storm and I just barely made it out of the hilly neighborhood and on to the main highway in my trusty Plymouth Duster. I arrived in Elkhorn with time to spare, and having slid sideways into the employee parking lot was ready to begin my first day in what I hoped would be the beginning of many years as the Holton tester.



Part 3


I arrived for my first day of employment with the Holton Company on a cold, snowy morning in late December of 1980. As I entered through the front doors the most prominent feature was a brass sousaphone bell flare mounted on the door that led to the main factory. The bell was gold plated and had a huge elks head embossed on the bottom of the flare. The rest of the surface was very ornately engraved with the Frank Holton logo surrounded by a very intricate pattern of engraving.

To my left were two desks and several offices, one of which was the plant manager's office, and to my right was a doorway to the engineering room and the Holton Museum. The Museum consisted mostly of production models and prototypes and some competitor's instruments, but there were a few really interesting instruments and photos. One instrument was a vintage keyed bugle, another was Don Ellis' personal 1/4 tone trumpet that had been donated by his family after his death, another was a pocket cornet that had been played for years by the leader of the Ringling Brothers Circus Band leader. There was an old Holton trumpet from the 1930's and a picture of the Boston Symphony trumpet section, all proudly showing off there Holton trumpets, an advertisement telling of a section of Farkas horns being spied in the orchestra pit of the Moscow Ballet Orchestra. One particularly interesting item was a trombone bell made of wood that had been used in an experiment to research the effect of certain materials in the production of tone quality. It was determined that the shape of the bell was more a factor in making a trombone sound than the actual material. Though tone color, response, etc. was determined by material, the essential sound of the trombone was determined by bore, taper and size of the bell. The wooden bell sounded like a trombone, albeit not one that someone would like to make a living with.

I was reintroduced to the Plant Manager with whom I had already interviewed, and visited with a few times on his visits to the Martin Plant. He was from Puerto Rico and was an accountant with essentially no manufacturing experience. He had convinced Vito that with his knowledge of numbers and graphs he could turn production around and have the Holton Division showing a profit. I went to an IHS symposium in 1983 and he was gone when I returned the following week.

Having visited with the manager for a bit and being introduced to the office personnel and being told, ha, ha that they really ran the plant, I was turned over to the Design Engineer for a tour of the factory. The Design Engineer had been the tester for some twenty years but had of late been spending more time designing and developing new models than he had been testing instruments. We started in the Bell and Bend area and worked our way back to the machine shop. About the only thing not actually fabricated on site were valve springs and neoprene bumpers. We ended by visiting the Buffing Room, the Lacquer Booth, the Mounting area and the Final Assembly section. The Testing room was at the back of the Final Assembly area next to the Shipping Department.



To be continued....
---