Testimonials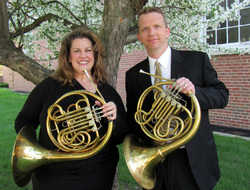 Darcy Hamlin, 3rd horn and Deitrich Heman, 2nd horn of the Milwaukee Symphony Orchestra.

Not pictured is William Barnewitz, principal horn retired.
---
"What sets Wes Hatch's horns apart from other brass horns is their utterly
satisfying versatility. You get the clarity, brilliance and zing when you need
it, but unlike so many brass horns, you also have the freedom to create rich,
full, solid, multidimensional depth. Thank you, Wes, for such a consistent and
brilliantly crafted instrument. I haven't had this much fun playing the horn in
years!"
~Darcy Hamlin, MSO 3rd horn since 2003, Hatch player since 2013
"I couldn't be happier with my Hatch horn. The quality and clarity of sound are first-rate, the response is immediate, and the horn is just easy to play
in all registers. Wes is an artist, and I recommend his horns
without hesitation!"
Dietrich Hemann
Milwaukee Symphony, 2nd horn. Former member, Rochester Philharmonic Orchestra
"Hi, Wes --
I just wanted to drop you a quick line and let you know how much I'm loving my new horn.... This was my first week with it in the section, and all of the guys (on their Schmid descants) were eager to try it out, and impressed with how easy, even, and smoothly it plays! Everything is fantastic with the horn; I'm very pleased, and I wanted to write and let you know so. I *never* imagined I would enjoy playing a Geyer horn this much, and I can't believe it took me this long to make the switch. "
Sarah Hogan
2nd Horn
State of Mexico Symphony Orchestra
"Hi Wes,
I just wanted to say thanks for being so fantastically reasonable about my horn. It's a great relief to have someone who is committed to not only making a great horn, but ensuring its quality for the duration. It speaks to your integrity as a craftsman and I really appreciate it."
-Colin
"It's my turn to thank you
Wes Hatch
for transforming my already fine S.W.Lewis horn to a fantastic and marvelous instrument!! I couldn't imagine that it could improved so much.Thank you that you did such a wonderful job!!"
-Traianos Eleftheriadis
Hi Wes,
This is just a quick email thanking you once again for the excellent work you did on my horn. I can honestly say that the valves have never worked better (and I've had this horn since it was new in the '80's).
Best Regards and Have a Happy New Year,
Dan