Conversions & Other Custom Repairs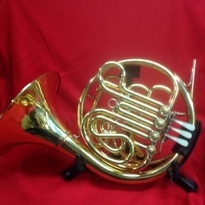 I began customizing Yamaha 667 horns in 1988. In 2002, I began installing the same bell and leadpipe that I use on my custom horn. The result is a fine horn that, in many ways, is basically a custom horn for less money. Customers often purchase a 667 that is in need of a lot of repairs for a low price, and I install a one piece hand hammered bell, first branch if needed, and my leadpipe. I also perform my Resonance Rehab. In addition to the "YamaHatch", I have also done conversions on all Holton models, Conn 10D and 11D models, YHR863 and YHR667V, King Fidelio, Lewis Horns, and Hoyer G10.


Unless specified differently the bell that I install is a one piece, hand hammered bell made by Bernd Sandner.
Customer choice of bell ring set.

The Process:
* Disassemble and strip lacquer
* Remove bell, leadpipe, branches and braces
* Inspect for gaps and jagged edges
* Repair minor dents. Any major dents to be repaired are billed extra at the shop rate of $75.00 per hour.
* Install new Sandner #88 one piece hand hammered detachable bell flare and bell tail. Install new, matching first branch if necessary (additional cost. Holton H190 series is an example. Small end is too small).
* Remount and solder branches and braces, making certain that there are no gaps or tension
* Install Hatch leadpipe
* Buff, polish and clean ultrasonically
* Oil and fit rotors and bearings
* Fit new neoprene bumpers and align rotors
* Adjust and restring levers
* Grease and fit slides, realigning as necessary

Price: $2,850.00 ($2350.00 with spun bell).


---